HOUSE OF LORDS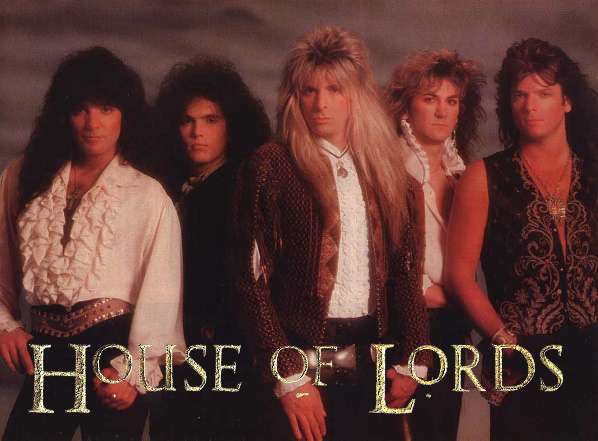 House of Lords is a rock band based out of Connecticut, with members in New Jersey and Florida. USA
House of Lords was formed in 1987 by former Angel member and keyboardist Gregg Giuffria after his solo project Giuffria. After listening to demos – originally intended for Giuffria's third record – a record deal with Gene Simmons' company Simmons Records was agreed upon, on two conditions that the band's name be changed (to House of Lords) and a new lead singer recruited (firing David Glen Eisley in the process).[2] James Christian thus replaced Eisley, after Christian was suggested by ex-Giuffria and Quiet Riot bassist Chuck Wright,[3] after having worked together in L.A. Rocks. House of Lords' eponymous debut was released in 1988, featuring a heavier sound than Giuffria with a lower keyboard mix. The album received critical acclaim and the band toured with Cheap Trick, Ozzy Osbourne and the Scorpions in 1989. The album featured one major hit, "I Wanna Be Loved" (Hot 100 No. 58). The Stan Bush penned "Love Don't Lie" was the second single but despite MTV airplay, failed to chart. After touring, original guitarist Lanny Cordola left in 1990, replaced by ex Shark Island's Michael Guy.
Their next effort was 1990s Sahara and featured a list of guest musicians. Other notable contributions to the album came from Doug Aldrich, Rick Nielsen, Chris Impellitteri, Mandy Meyer, David Glen Eisley, Robin Zander, Mike Tramp, Steve Plunkett and Ron Keel. Deliberately more guitar-oriented than the debut, the album hit No. 120 on the charts and in the wake of the successful single "Can't Find My Way Home" (a Blind Faith cover). The single & video also did well on Album Rock radio peaking at No. 10. The second single "Remember My Name" was a bigger hit hitting No. 72 on the Hot 100 and a Top 5 regular on DIAL MTV. Soon after, bassist Chuck Wright and drummer Ken Mary left the band.
出身地

アメリカ合衆国、Los Angeles, California

ジャンル

ハードロック

活動期間

1987–1993, 2000–

レーベル

Frontiers, RCA, Cleopatra, Polygram, Simmons, Victory

メンバー

James Christian
Jimi Bell
B.J. Zampa
Chris Tristram


元メンバー

Gregg Giuffria

Ken Mary

Chuck Wright

Lanny Cordola

Michael Guy

Gregg Giuffria

Tommy Aldridge

Dennis Chick

Sean McNabb

Matt McKenna

Chris McCarvill

HOUSE OF LORDS の商品一覧